Family Fun Activities
Eco Passport 2020
Last year the Class Eco Rangers and Young Leaders group challenged you to complete 10 tasks related to the Eco-Schools topics. This passport has been adjusted to fit with the current advice to stay at home during the Covid 19 pandemic.
There are 10 topics and you will need to do something environmentally friendly in each topic. Be sure to photograph, write about, draw a picture or even make a video of each task that you complete. All the tasks can be done by staying at home.
As always we love to see what you are doing so please tweet your work to @horburybridgeac or email sjolly@horburybridgeacademy.co.uk. For those completing all 10 tasks you will be sent an online certificate.
Chester Zoo

If you can't have a day out, let the day out come to you! Take a virtual tour of Edinburgh Zoo or Chester Zoo

Keep active with the Youth Sport Trust Daily activity ideas Active ideas

Keep your kids learning new skills and having fun (and avoid hearing 'I'm bored' every 30 seconds)

Creative family challenges including, drawing, making, collage, painting

Yorkshire Water Interesting activities to do with their children – both fun and educational!
Wakefield Council have produced a Wakefield Families Newsletter with ideas and activities.
Thank the NHS
by getting creative and entering this competition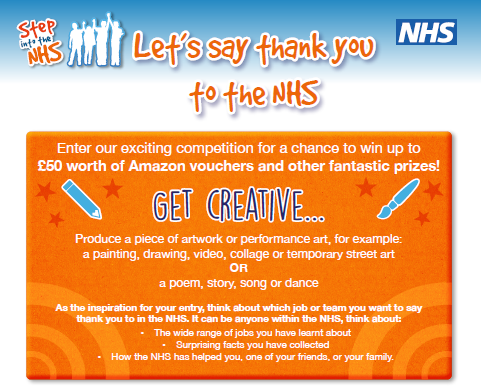 Cooking Activities
For all the recipes please use the Recipe Bank
YPTE: Young People's Trust for the Environment