Being a Church School
Our Vision
Living by our Christian Values: Together in Faith, Hope and Love
Rooted in Christian values, we take inspiration from our heritage in the words of Rev'd Sabine Baring Gould, curate of Horbury Bridge who, in 1864, wrote the hymn, 'Onward Christian Soldiers'.
This was written specifically for the children of Horbury Bridge with the intention to feed their spirit and give them the determination to march in the name of God to their mother church in Horbury.
It is based on several Bible verses, including, 1 Corinthians 13:13 referring to the importance of being united in faith, hope and love ("We are not divided, all one body we, one in hope and doctrine, one in charity") and Ephesians 6: 13-18 referring to the importance of living by Christian values (the armour of God: truth, righteousness, peace, faith, prayer)
It reflects a continuing commitment to our role within the local community and parish, our ethos that we are all a unique and valued part of one family of God and our belief in the importance of working together to make a difference in the world.
This vision statement evolved from the work of Year 6 who looked at our unique heritage and the significance of the hymn verses. They decided it reflects the kind of school we are today and their experience of being a pupil here. They wrote letters to the Headteacher and Governors and visited each class and the church community to explain their ideas and collect their views:
As a result, we now have a vision, rooted in Christian teaching, based on our heritage and which reflects how we live out our values in daily school life. What a wonderful legacy the children have given us!
Our Values
Each half term we explore a different value from a Christian perspective. Our values include:
Respect for God's World, Peace, Thankfulness, Humility, Perseverance, Trust, Justice, Friendship, Community, Courage, Forgiveness and Hope.
Each of these is supported by our overall vision.
We explore each value through our assemblies, songs, prayers and our relationships with each other. We refer to them in the curriculum and make links to how we live our daily lives.
Each class has a reflective area based on the value we are considering and children can add their own thoughts and prayers to the area.
Our Heritage
The first school in Horbury Bridge began on St Catherine's day, November 25th, 1864 when Canon Sharp of St Peter's Church, Horbury, sent his new Curate, the Rev'd Sabine Baring-Gould, to provide Christian teaching and worship at the recently-formed community at Horbury Bridge ('The Brig'). The school was set up as a church-based school, in the upstairs room of one of the houses just round the corner from our present site. It was known as The Brig Mission.
In the following year, after buying a plot of land, Sabine founded a new mission church and school – this building still stands and is now part of the present school site.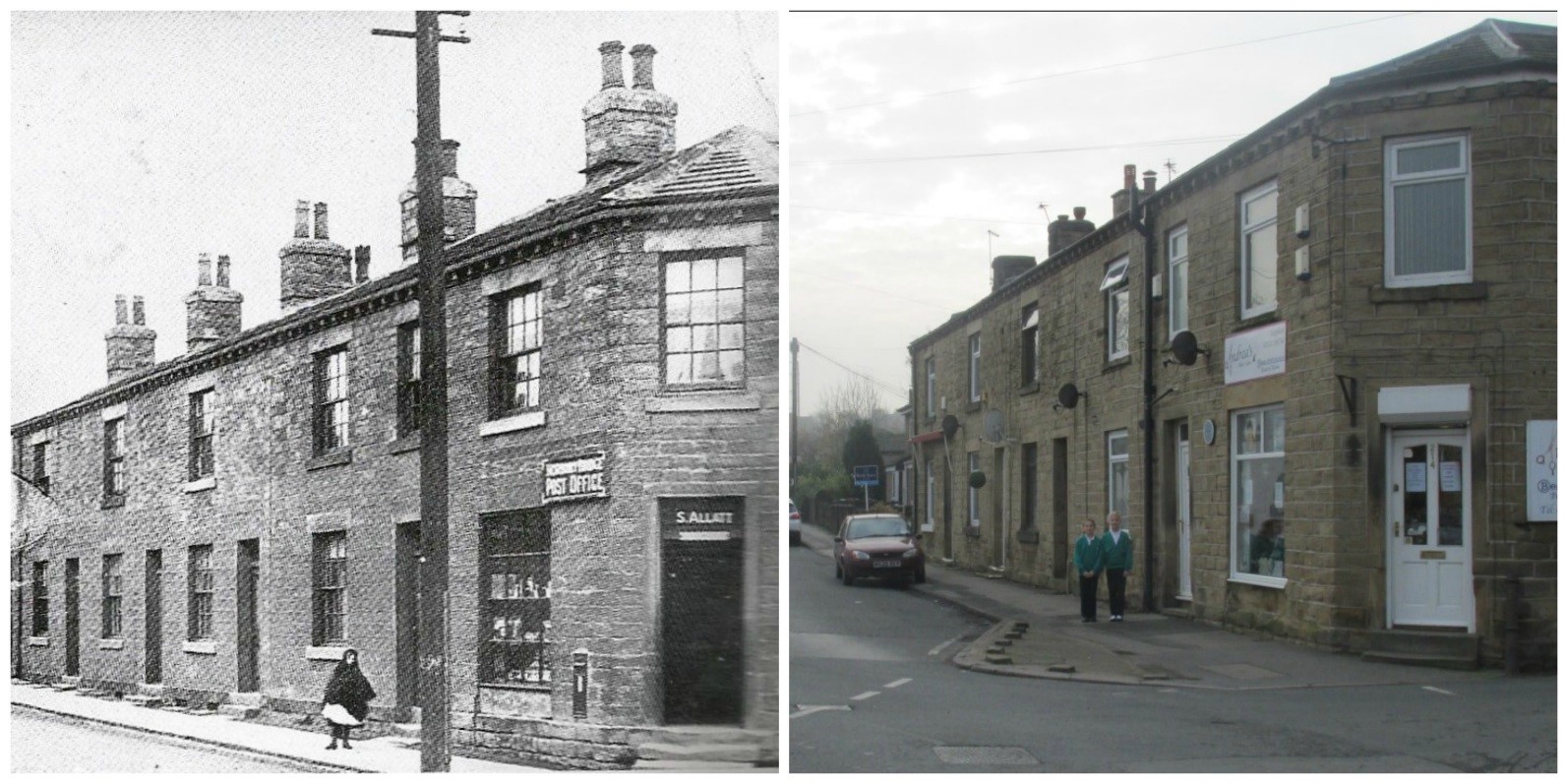 The Brig Mission-then and now
Baring-Gould was most famous for composing the hymn 'Onward Christian Soldiers' for the children to sing as they marched up Quarry Hill on their way to St Peter's Church on Whit Sunday. We are proud of this wonderful legacy: our hymn has become famous throughout the world.
To commemorate our 150th anniversary as a church school, we commissioned a stained glass window which is installed above the main entrance door and blessed by the Bishop of Pontefract in a special school service.
The design of a cross, with rays of light shining out behind and circled by the crown of thorns, symbolises 'Jesus the Light of the World'. The cross and background include our school colours of green and blue.
Collective Worship
Collective Worship (assembly) is an important time each day where we can explore our values and think about important points in the church year. These are led by a range of staff and visitors, as well as giving children opportunities to plan their own pupil-led worship.
Father Christopher leads our Collective worship in Church every Thursday.
What does it mean to be a Christian?
Father Christopher invited Megan to visit, so the children could find out more about what being a Christian means as a young person. She told the children all about what different groups she attended to support her faith, including her role as an alter server. She then answered some of the children's questions.
Leeds Diocese
Every year we have the opportunity to attend the Annual Leaver's Celebration at Wakefield Cathedral.
Hand To Mouth
We work closely with Hand to Mouth to enhance prayer and reflection at Horbury Bridge.
Key Stage 1 Advent
This journey gives our children the opportunity to think and learn about Advent and what Christians believe about the birth of Jesus.
KS1 Good Samaritan
Early Years and KS2 Trinity
This journey gets our children thinking and learning about the trinity; God the Father, God the Son and God the Holy Spirit and allows them to explore how Christians show their beliefs about God.
Staff Reflection Journey
Our staff journeys are designed to enhance personal and spiritual development for all staff, Governors and any adult that plays an important part in school.
Other visitors
Philip Kaye is one of our regular visitors to lead collective worship
Philip Kaye